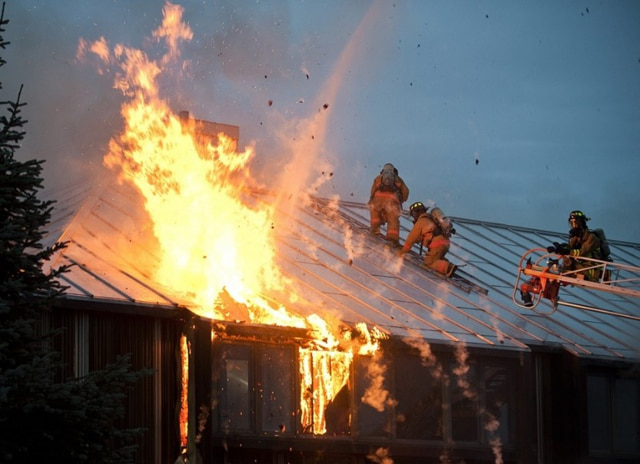 Fire Damage: Steps to Restoration
A building fire is a terrifying and devastating experience for anyone to have to go through. Once the flames have been extinguished and everyone is safely accounted for, work must begin on restoring the structure. A professional fire damage restoration company can take this daunting work off of the shoulders of the building owner and ensure that the structure is restored back to its previous condition.
What is Fire Damage Restoration?
Simply put, fire damage restoration is the process that occurs after a fire to clean, repair, and restore a structure back to its previous condition. This process can vary widely depending on the extent of the fire damage.
Some fire damage restoration is relatively minimal and mostly deals with smoke cleanup. There are some structures that require demolition and rebuilding. Each situation is completely different and needs to be assessed before the work begins.
Steps to Fire Damage Restoration
When a fire damage restoration company is called in to look at a structure that has been damaged by fire, they generally take these steps to complete the restoration.
1) Secure the Area
It is important that the fire damage restoration company secures the remaining structure as soon as possible to avoid injury, theft, and further damage. This includes shoring up parts of the structure that may be in danger of falling, boarding up broken windows, and tarping holes in the roof.
2) Assess the Damage
This is one of the most important parts of the entire process. The fire damage restoration company takes a thorough look at the remaining structure and assesses what work needs to be completed. Flame damage is obvious, but smoke damage can be more difficult to detect completely.
3) Remove Debris
Before a fire damage restoration company can start to restore the structure, they must first safely remove all debris that is not salvageable. Since fires release a lot of toxins, fire damage restoration companies will make sure that their workers are well suited in personal protective equipment and that the debris is safely disposed of.
4) Dry the Area
A lot of the damage after a fire is caused by water. Broken water pipes and water from the fire hoses leave behind a lot of water damage. A fire damage restoration company will clean up standing water, fix any leaking pipes, and dry out the area before construction can begin.
5) Clean Soot
Fire damage restoration companies will also need to clean the salvageable surfaces because they are often covered with toxic soot after a fire. They will thoroughly clean the entire space to ensure that it is safe.
6) Restoration
Restoration only begins once the area is safe and clean. Fire damage restoration companies will restore the structure back to its previous state. Some owners take this opportunity to complete any upgrades or renovations they were considering before the fire.
How to Choose a Fire Damage Restoration Company
Since the fire damage restoration process is so intensive, it is imperative that the best possible fire damage restoration company is hired to complete the work. There are a lot of ways that the process can be delayed or done poorly. Look for a fire damage restoration company with the following characteristics to avoid mistakes and delays:
• Experience
Always choose a fire damage restoration company that has many years of experience, specifically in fire damage restoration. They know how to handle a variety of situations, have experience dealing with insurance companies, and can detect problems before they get out of hand.
• Great reputation
When in doubt, ask around. Find reviews from friends and online about your potential fire damage restoration company. Ask people if they were easy to work with, if the work was done well, and if the quotes provided were accurate. Great fire damage restoration companies will have people lining up to shout their praises.
• Provides a detailed quote
Professional fire damage restoration companies provide reliable and accurate quotes for all the work that needs to be done.
• Always on-call
Fires do not always happen during regular business hours. A good fire damage restoration company is available whenever they are needed. Once the fire is put out, they will need to secure the area as soon as possible.
Though fires are terrible things to experience and fire damage restoration is not something that anyone wants to deal with, fire damage restoration companies can make the entire experience a little less stressful.