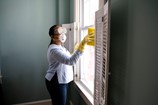 The world has completely changed when it comes to proper cleaning services. While we were happy to have cleaning companies handle much of the work needed to keep places clean, today dedicated disinfection services are required to keep people safe and protected from potential contagions. And that means hiring professional and experienced providers of disinfection services.
But how do you know if the company you are about to hire is the right one to keep you, your business, or your personal space safe? Here are a few tips to help you pick the right company for your disinfection service needs.
Tip #1: Ask if Their Products are Antiviral
While antibacterial solutions and procedures are absolutely necessary, we have also learned the importance of antiviral procedures as well. Before you choose any provider of disinfection services, ask them about their antiviral procedures and solutions. They must have these in place in order for them to be effective right now. If you come across disinfection services that haven't considered antiviral, then it is time to look for someone that has.
Tip #2: Ask About How They Address Airborne Particles
The debate over just how airborne diseases like COVID-19 rages on, but that doesn't mean you shouldn't consider it for your spaces. Be sure to inquire after what the company's airborne particle plan is for their disinfection services. This should be very similar to their antiviral plan in that they should already have something in place. If they do not, then you may want to look elsewhere for your disinfection services.
Tips #3: Inquire about their Process
While there are a lot of ways to look at process, the major question you are asking a disinfection service here is "How thorough are they?" You will need something more robust than a simple "spray-and-wipe" procedure that was acceptable last year. Nowadays, you will need procedures that address biofilm and difficult-to-reach spots where potential dangers could lie.
Tip #4: Check Credentials Where Necessary
Did you know that some disinfection services are mandated to have certain training and paperwork in place in order to carry out their job? In the state of California, for example, you need to have special certification and permission to handle trauma cleanup. Other rules exist in other parts of the country, but sometimes these rules aren't enforced. When that happens, plenty of businesses can operate without the proper training and certification, which puts you and your employees or loved ones at risk. Research any requirements that your potential disinfection services provider will need to handle your specific job. If they are required, make sure the provider has these in place, or head to someone else.
Tip #5: Check How You are Protected
When we talk about you being protected in disinfection services, we are talking from a legal perspective. Unfortunately, there are a lot of bad actors in the world of cleaning and disinfecting. Today more than ever, it is important to know if the business you choose is professional, experienced and cares about their work enough to be insured. If you choose a company that is uninsured, then you could end up in a costly legal situation where you may have to go to court if something goes wrong. Instead of assuming that risk, ask up front if your potential disinfection services provider is insured.
Now more than ever, people and businesses are turning to professional disinfection services to help keep their buildings safe and clean. No longer are amateur services doing the job. In fact, it is becoming clear that we need experienced professionals who know how to make a place free from contagions alongside regular dirt.
If you are in need of a provider of disinfection services, make sure you thoroughly research them first. They should already have an antiviral plan in place complete with procedures and solutions guaranteed to keep your spaces safe. They should also have all of the required documents and paperwork expected of a professional and dedicated company. Finally, they should have policies and procedures in place that protect you in the event that something goes wrong. Once you have found a company that satisfies all of this criteria, then you can be assured that you will be safe and protected.